Smarter
Stop maintaining and scaling your local CI/CD infrastructure. Switch to cloud!
Faster
Customizable pipeline automation speeds deployments to production. Build more, wait less!
Better
Build and Test better, avoid bugs before they reach your users. Ship your code with confidence!
Razorops, the most amazing asset to me and my team. Blazing fast, makes Continuous Development an absolute breeze!

Yaron Oren (Founder and CEO at Maverick.ai)
Running up an environment to run tests is the quickest comparing to others.

Surendra Ganne
(Co-founder & Head of technology at Tricecommunity)
I can definitely say that shorter build times lead to better time utilization, which means we can ship more stuff faster!

Jessica Fetcher (CEO at 1Dossier)
Razorops was the first CD/CI, I was actually able to get working with. I can rely on the Razorops team - they deliver!

Krishna V (Co Founder at HiredGrad)
Container Native
Software that treats the container as the first-class unit of infrastructure. ReazorOps gives a fresh isolated environment for every step in your pipeline.
Connect Environments
Create new Kubernetes clusters on any server or cloud no matter where they run. Integrate and promote builds across multiple environments according to your needs (development, staging and more).
Deployment Pipeline
Manage your entire pipeline visually or put inside your codebase. No scripts, delays and downtime.
Automatic rollback
We analyze data from monitoring tools and uses automated testing tools to look for anomalies and failures to rollback broken within seconds.
Incorporate Gitops
Align your pipelines with the branch structure, making it easier to work with branching workflows like feature branching or git-flow.
Code as configuration
Store and manage your configurations in a single .razorops.yaml file. Only few lines of code to get you started.
Git as Source Code
Razorops integrates well with top git based source code management systems like GitHub, Bitbucket, and GitLab.
Language Agnostic
Razorops is language agnostic, it works with any language or service that runs inside a Docker container. You can choose public docker images or use your private images.
Platform Independent
Razorops is a cloud based SAAS product, it's a zero installation, quick start platform, you can build your apps for any platform AWS, GCP, Azure, iOS, Android, ReactNative etc.
RazorOps Deployment
SaaS Platform
We provide secured, managed and highly-available infrastructure for our SaaS Solution.
Hybrid Solution
Run builds on your infrastructure, and use RazorOps UI on our infrastructure.
On Prem Self-hosted
Run the full Razorops stack on your own infrastructure.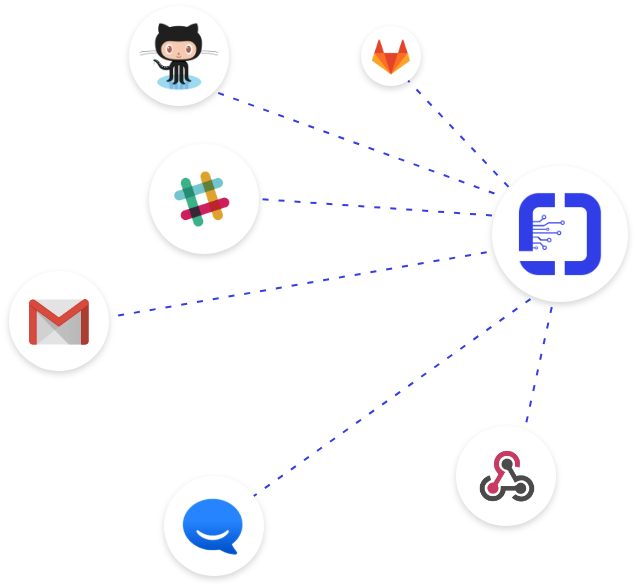 Integrations
Connect right out of the box to GIT or your choice of version control systems to build and deploy apps from your source code. Easily integrate with your continuous integration tools of choice like Docker and Kubernetes, and get automatic deployment notifications via email and Slack.