Razorops | Business Development Manager - Cloud Solution Job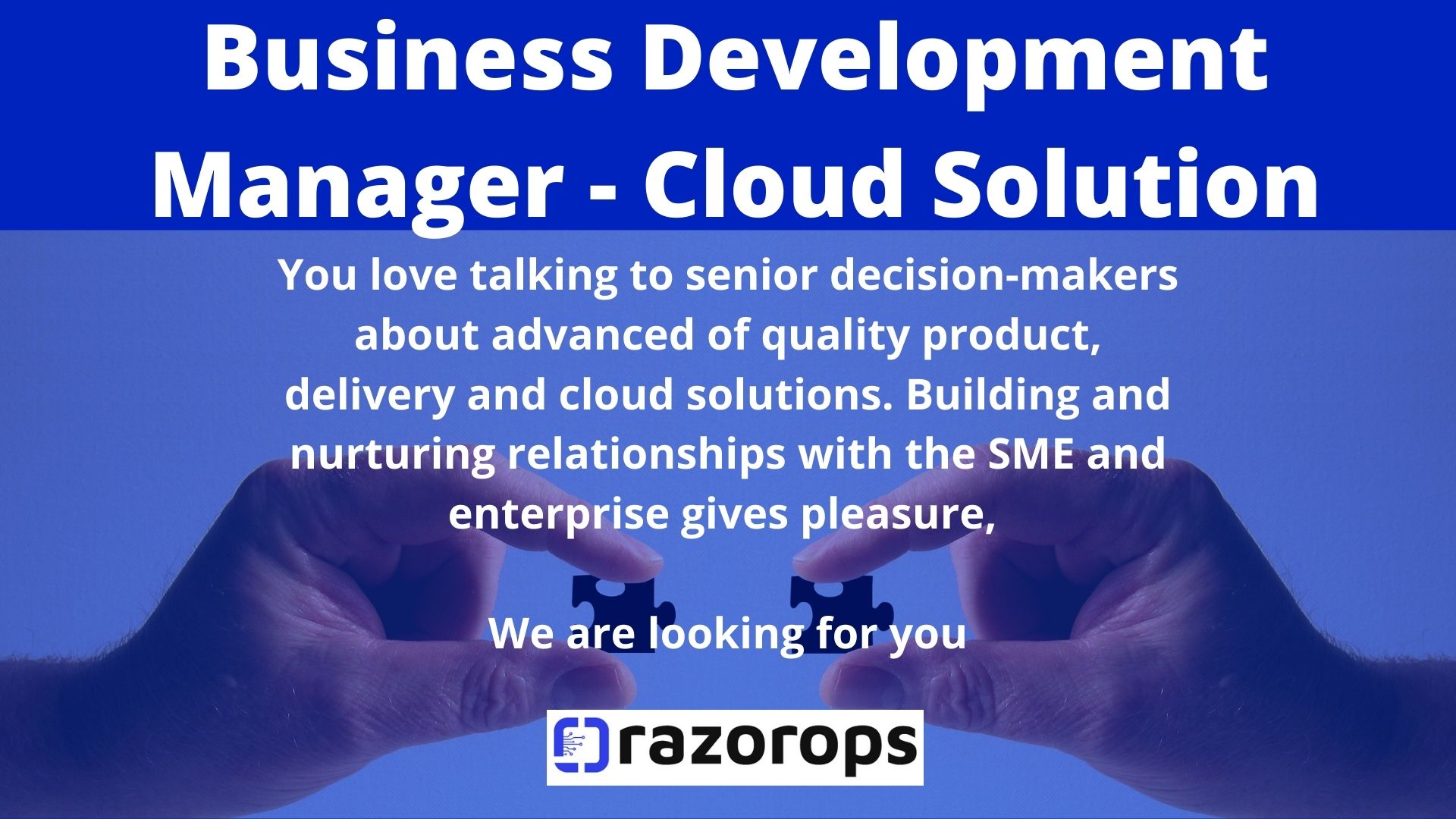 Job description
4+ years in sales of cloud solutions and software tools. Strong knowledge of cloud solutions preferably AWS, Azure, Google or Managed Hosting vendors like CtrlS etc.
Fundamental knowledge of IT architecture preferred.
Consultative or solution selling experience of 3-4 years.
Experience selling Enterprise software, IT solutions, Software ( SaaS ) etc.
Engage with strategic alliance partners to drive mutually beneficial revenue opportunities.
Significant experience with face-to-face presentations to executive level decision makers.
Show consistent success with a maintaining and building client relationships within an enterprise account base.
Experience creating and developing long-term client relationships.
Evidence of high performance, entrepreneurial spirit and team player.
Responsibilities:
Develop a strong presence within territory with both customers and partners.
Drive revenue and deliver quarterly target numbers.
Build and manage relationships with enterprise and mid-market customers.
Position Umbrella as trusted advisor.
Qualify opportunities and build business pipeline.
Understand customer problems and work with technical team to build solutions.
Presentation of solutions to Senior Management in customer organizations.
Commercial negotiations and close orders for products and services.
Work closely with partner organizations and build joint go to market strategy and execute the strategies.


Industry Type - IT-Software, Software Services Functional Area - Sales, Retail, Business Development Employment Type - Full Time, Permanent
Key Skills - Azure, Sales, Enterprise Software, SAAS, Cloud Business Development, Solution Selling, IT Sales, AWS, Docker, Kubernetes, CI/CD Software.


How to apply
---
Send your latest resume at [email protected] with following
Total Exp -
Relevant Exp. -
Notice Period - when you can join our team?
Current CTC -
Expected CTC -