Smarter
Stop maintaining and scaling your local CI/CD infrastructure. Leave it to us!
Faster
Customizable pipeline automation speeds deployments to production. Build more, wait less!
Better
Build and Test better, avoid bugs before they reach your users. Ship your code with confidence!
DevOps Teams
Simplify adoption of Containers with an easy to understand UI to integrate git sources, pipelines, docker, deployment stages etc.
Razorops, the most amazing asset to me and my team. Blazing fast, makes Continuous Development an absolute breeze!

Yaron Oren (Founder and CEO at Maverick.ai)
Running up an environment to run tests is the quickest comparing to others.

Hiren Gogoi (Head of Product & Technology at Scraptap)
Razorops was the first CD/CI, I was actually able to get working with. I can rely on the Razorops team - they deliver!

Krishna V (Co Founder at HiredGrad)
Source Code
Connect your code repositories, docker registry or preferred build system.

Define Pipeline
Create continuous delivery pipelines in a few clicks using visual dashboards across apps, environments and teams.
Deploy & Monitor
Promote releases between target environment and perform automatic health-check, logs metrics and rollback automatically.

Keep you notified
Get automatic notifications of every build and deployment via Slack, HipChat, email, or webhooks.
Deployment Pipeline
Manage your entire pipeline visually or put inside your codebase. No scripts, delays and downtime.
Connect Environments
Create new clusters on any server or cloud or easily connect your existing clusters no matter where they run. Integrate and provision multiple environments according to your needs.
Hosted Helm and docker Registries
Use our built-in registry and Helm Repos, or connect your own.
Automatic rollback
We analyze data from monitoring tools and uses automated testing tools to look for anomalies and failures to rollback broken within seconds.
Incorporate Gitops
Align your pipelines with the branch structure, making it easier to work with branching workflows like feature branching or git-flow.
Code as configuration
Store and manage your configurations in a single pipelines.yml file. Only few lines of code to get you started.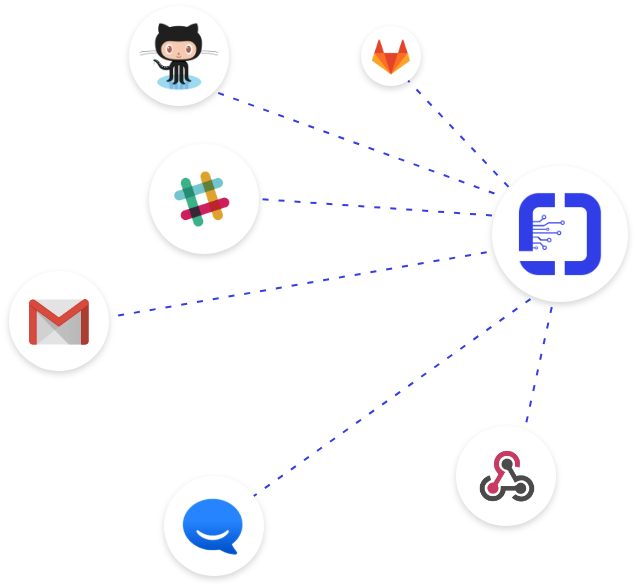 Integrations
Connect right out of the box to Git or your choice of version control systems to build and deploy apps from your source code. Easily integrate with Jenkins or your continuous integration tools of choice, and get automatic deployment notifications via email, Slack or HipChat.
Build your open source projects FREE.
We too ❤️ the open source community.
You can build your public or private projects for Free.
As Razorops user, you get
First 5000 build min. Free
(Standard machine type with 1 vCPU and 3.75 GB of memory)